Educational Human Anatomy Charts: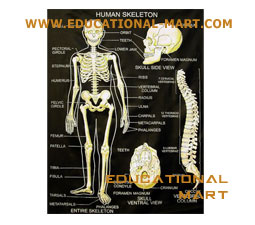 Connective Tissue Chart

Epithelial and Muscular Tissues Chart

Blood and Nerve Tissues Chart

Gametogenesis Chart

Fertilization Chart

Oogensis Chart

Spermatogensis Chart

Muscular System Chart

Skeleton & Skull Chart

Nervous System Chart

Arterial System Chart

Venous System Chart

Lymphatic System Chart

Digestive System Chart

Respiratory System Chart

Excretory System Chart

Female Reproductive System Chart

Male Reproductive System Chart

Bone and Carliage Chart

Muscles Chart

Immune System Chart
Endocrine System Chart

Human Heart Chart

Human Brain Chart

Human Eye Chart

Human Ear Chart

Human Skin Chart

Human Teeth Chart

Human Kidney Chart

Embro Development Chart

Human Anatomy Chart

Human Blood Cells Chart

Human Nose Chart

Human Tongue Chart

Human Joints Chart

Menstrual Cycle Chart

The Cell Chart

Spinal Cord Chart

Sense Organs Chart

Autonomic Nervous System Chart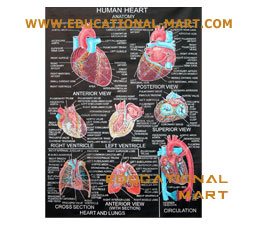 Other Educational Biology Charts Exporters:
Algae
Chlamydomonas Structure & Life Cycle
Ulothrix Structure & Life Cycle
Oedogonium Life Cycle
Spirogyra Structure & Conjugation
Chara Structure and Life History
Volvox Structure and Life History
Oscillatoria Structure and Life History
Nostoc Structure and Life History
Batrachospermum Structure & Life History
Polysiphonia Structure & Life History
Ectocarpus Structure & Life Cycle
Dictyota Structure and Life History
Fucus Structure & Life Cycle
Vaucheria Structure & Life History
Sargassum Structure & L.H.
Diatoms Structure & Reproduction
Fungi
Rhizopus Structure & Life History
Mucor Structure & Life History
Yeast : Saccharomyces
Bacteria -I Structure and Forms
Bacteria-II Showing Reproduction
Virus types, Structure and Life History
CPenicillium Structure & Life History
Albugo (Cystopus) Str. & Reproduction
Phytophthora Structure and Life History
Puccinia graminis Structure & Life History
CAgaricus Structure & Life History
Peziza Structure & Reproduction
Lichens Structure & Types
Aspergillus Structure & Life History
Plant Pathology
Plant Diseases :Bacterial
Plant Diseases : Fungal and Viral

Histology
Simple Tissues, Parenchyma,Collenchyma & Sclerenchyma
Showing Complex Tissues, Xylem
Showing Complex Tissue Phloem
Gymnosperms
Cycas life history
Cycas Anatomy
Gnetum Life Cycle
Gnetum Anatomy
Ephedra Structure and Anatomy
Pinus Life History
Pinus Anatomy
Flower & Embryology
Typical Flower Showing Parts
Fertilization Sh. germination of Pollen grain
Germination of Pollen Grain
Developmentof Male Gametophyte
T.S. Anther & Its Development
Megasporogenesis
Development of Embryo and Endosperms
Development of Embryo in Sagittaria
Embyro in Capsella
Microsporangium
Types of Embryo Sacs
Development of Monocot Embryo
Others
Ranunculus sceleratus
Delphinium ajacis (Larkspur)
Brassica campestris (Mustard)
Papaver rhoeas (Garden Poppy)
Argemone mexicana
Althaea rosea (Holly Hock)
Hibiscus rosa sinensis (Shoe Flower)
Gossypium herbaceum
Citrus aurantium
Murraya exotica (marua)
Lathyrus odoratus (Papilonateae)
Cassia fistula (Caesalpinioideae)
Acacia arabica (Mimosiaecae)
Rosa indica (Rose)
Prunus persica (Peach)
Luffa aegyptiaca
Chenopodium album
Ricinus communis
Euphorbia pilulifera
Euphorbia splendens
Triticum vulgare (Wheat)
Oryza sativa (Rice or Paddy)
Coriandrum sativum (Dhania)
Ipomoea palmate

Bryophyta, Pteridophyta
Riccia Structure & reproduction
Marchantia Structure & Life History
Anthoceros Structure & reproduction
Funaria (Moss ) Life History
Selaginella Reproduction
Selaginella Structure
Psilotum Life History
Psilotum Structure
Marselia Reproduction
Marselia Structure
Lycopodium Reproduction
Lycopodium Structure
Equisetum Reproduction
Equisetum Structure
Aspidium (Fern) Life History
Aspidium (Fern) Structure
Pteris (Fern) Life History
Pteris (Fern) Structure
Nephrolepis (Fern) Life History
Nephrolepis (Fern) Structure
Adiantum Life History
Adiantum Structure
Angiosperms
Plant cell (Ultra structure)
Mitosis in Plants
Meiosis in Plants
Structure of chromosome during mitosis
Structure of Chromosome during meiosis
Parts of a Plant ( Mustard )
Plant Kingdom - I (Flowering)
Plant Kingdom - II (Non-flowering)
Datura Life Cycle
Insectivorous Plants
Comparison of Monocot & Dicot Plants
Forms of Androecium
Forms of Gynaecium
Placentation
Aestivation
Inflorescence-I (Simple,Racemose & Cymose)
Inflorescence - II (Compound & Special)
Different Types of Pollination
Forms of Ovules
Forms of Calyx & Corolla
Seeds & Fruits
Hypogeal Seed Germination (Gram & Maize)
Epigeal Seed Germination (Bean & Sunflower)
Dispersal of Seeds & Fruits
Classification of Fruits
Roots, Stems & Leaves
T.S. Dicot root
T.S.Monocot root
T.S.Dicot stem
T.S. Monocot stem
T.S.Dicot leaf
T.S. Monocot leaf
T.S. Dicot stem sec. growth
T.S.Dicot root Secondary Growth
Root modification
Stem modification (Aerial)
Leaf modification
Vegetative propagation
Artificial propagation
Specialised stems
Typical leaf showing parts
Types of leaves
Simple leaves
Stipules
Leaf Venation
Compound Leaves
Phyllotaxy
Leaf Lamina
Flowers
Polygonum
Helianthus annuus (Sunflower)
Sonchus asper
Solanum nigrum
Petunia hybrida
Calotropis procera (Aak)
Cryptostegia grandiflora
Salvia officinalis
Ocimum basilicum
Nerium odorum (Oleander)
Artabotrys odoratissimus (Champa)
Annona squamosa (Sitaphal)
Asphodelus tenuifolius
Allium cepa (Onion)
Avena sativa (Oat)
Zea mays (Maize)

Zoology :
Cell Membrane
Cell Wall
Endoplasmic Reticulum
Mitochondrion
Golgi Complex
Chloroplast
Nucleus
Chromosome
Protein Synthesis
D.N.A.
R.N.A.
Centrioles Flagella & Cilia
Enzymes
Ribosomes & Lysosomes
Phylum Porifera
Sycon Development
Canal Systems in Sponges
Obelia Structure
Corals & Coral Reefs

Hydra structure & Internal Anatomy
Ascaris Internal Str. of Male & Female
Taenia solium Structure & Life History
Liverfluke Structure & Life History
Ancylostoma duodenale Life Cycle
Pila External Characters
Pila Reproductive system
Pila Circulatory system
Pila Nervous system
Pila Sense Organs
Pila Respiratory & Excretory system
Pila Digestive system
Unio External Characters
Unio Circulatory system
Unio Internal Anatomy
Unio Nervous system
Unio Respiratory system
Unio Digestive system
Rabbit External Characters
Rabbit General Anatomy
Rabbit Digestive System
Rabbit Male Reproduction System
Rabbit Female Reproduction System
Rabbit Excretory System
Rabbit Arterial System
Rabbit Venous System
Rabbit Nervous System
Rabbit Respiratory System
Rabbit Skeleton
Rabbit Brain Different Views
Rabbit Heart Different Views
Vertebrate Hearts
Vertebrate Brains
Vertebrate Skulls
Vertebrate Limbs
Vertebrate Girdles
Vertebrate Urinogenital system
Verterbrate Embryos
Vertebrate Arterial
Vertebrate Genital
Pigeon External Characters
Pigeon Internal Anatomy
Pigeon Skeleton
Pigeon various systems
Fowl Skeleton
Chick Development
Chick Embryo
Beaks of Birds
Claws of Birds
Types of Birds
Types of Reptiles
Snakes Poisonous & Non poisonous types
Varanus Skull Different views
Varanus skeleton
Varanus Circulatory system
Varanus Excretory system
Lizard various systems)
Calotes various systems
Uromastix various systems
Snake Types
Lizard External Characters
Scoliodon Recepter organs
Labeo rohita External characters
Labeo rohita Axial Skeleton
Labeo rohita Skull
Amphioxus External Characters
Amphioxus General Anatomy
Amphioxus T.S. through Different Regions
Amphioxus Development
Amphioxus Excretory system
Fish Types
The Cell (Ultra Structure)
Animal Mitosis (Cell Division)
Animal Meiosis (Cell Division)
Animal Connective Tissues
Epithelial and Muscular Tissues
Blood and Nerve Tissues
Gametogenesis
Fertilization in Animals
Oogensis
Spermatogensis
Amoeba Structure & Locomotion
Plasmodium vivax (Malarial Parasite)
Paramecium Structure
Euglena Structure & L.H.5a
Entamoeba histolytica Structure & L.H.
Earthworm External Characters
Earthworm internal Anatomy
Earthworm Development
Earthworm Reproductive system
Earthworm Nervous System
Earthworm Digestive System
Earthworm Excretory System
Earthworm Circulatory System
Beneficial Insects
Harmful Insects
Food Grain Pests
Housefly Life History
Mosquito Life History
Butterfly Life History
Honey bee life history
Silkworm Life History
Grasshopper Life History
Cockroach L.H.
Cockroach Anatomy
Cockroach External character
Cockroach Mouth Parts
Cockroach Digestive system
Cockroach Respiratory system
Cockroach Circulatory system
Cockroach Nervous system
Cockroach Reproductive system
Prawn Internal Anatomy
Prawn External Anatomy
Prawn Reproductive system
Prawn Digestive system
Prawn Excretory system
Prawn Nervous System
Prawn Circulatroy system
Scorpion External Characters
Rat External Characters
Rat General Anatomy
Rat Digestive System
Rat Male Reproductive system
Rat Female Reproductive system
Rat Excretory System
Rat Arterial system
Rat Venous system
Rat Nervous system
Rat Respiratory system
Rat Skeleton System
Rat Brain
Rat Heart
Frog External Characters
Frog Internal Anatomy
Frog Skeleton
Frog Skull different views
Frog Development -I Egg to Gastrulation
Frog Development-II Gastrula to Tadpoles
Frog showing Metamorphosis
Frog Digestive system
Frog Nervous System
Frog Male Reproductive system
Frog Female Reproductive system
Frog Excretory system
Frog Arterial system
Frog Venous system
Frog Respiratory system
Frog Brain
Frog Heart
Starfish Anatomy
Starfish (Asterias) Water Vascular system
Scoliodon External Characters
Scoliodon General Viscera
Scoliodon Digestive system
Scoliodon Brain
Scoliodon skeleton
Scoliodon Skull
Scoliodon Male Urinogenital system
Scoliodon Female Urinogenital system
Scoliodon Venous system
Scoliodon Cranial Nervous system